Herold Mahoney Library Gallery
Exhibit Dates
November 20 - December 21, 2017
Former billboard painter, graphic artist and roaming soul, D.A. Bishop has been painting in Sonoma County for nearly forty years. Best known for his superb "roadscapes" and timeless images of industrial buildings and small houses, Bishop's work includes extensive figurative paintings and drawings, automotive paintings, surfing paintings, and renderings of seemingly simple objects.
This exhibition features landscapes and cityscapes of Sonoma County and a few nearby places. Their beauty reminds of us of Luther Burbank's famous words describing our region: "… the chosen spot of all this earth as far as nature is concerned."
Gallery Information
Mahoney Library Gallery
680 Sonoma Mountain Parkway
| | |
| --- | --- |
| Monday-Thursday: | 7:45AM-7PM |
| Friday: | 9AM-1PM |
| Saturday: | 10AM-2PM |
| Sunday: | Closed |
This exhibit is free to the public. A $4.00 parking permit is required in campus lots.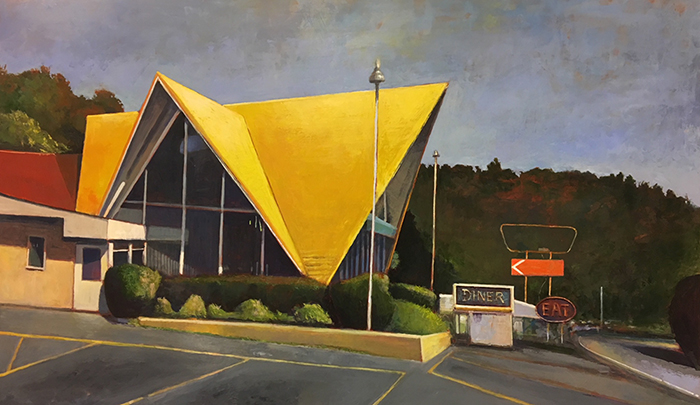 Traveler's Rest Diner by D.A. Bishop