Herold Mahoney Library Gallery
Preview selections from the Permanent Art Collections of Mahoney Library
The Mahoney Library has collected small framed original artwork from California artists to be loaned to SRJC Petaluma faculty and staff for display in their offices, hallways and shared public spaces on the campus for the duration of one year. The goal of the lending collection is to introduce students and the Petaluma community to a wide range of artists, art mediums and art movements through a closer and more personal look at original artwork.
The Mahoney Library Permanent Art Collection
The permanent art collection will be shown throughout the Petaluma campus and the Mahoney Library and will be on permanent display. This collection features artworks created by artists with an affiliation with the Santa Rosa Junior College District.
Selected artists include:
Brett Grunig
Nicolas van Krijdt
Bob Nugent
Lynda Nugent
Tara Thompson
Exhibit Dates
January 25 – February 25, 2016
Gallery Information
Mahoney Library Gallery
680 Sonoma Mountain Parkway
| | |
| --- | --- |
| Monday-Tuesday: | 9AM-6PM |
| Wednesday-Thursday: | 9AM-3PM |
| Friday-Sunday: | Closed |
This exhibit is free to the public. A $4.00 parking permit is required in campus lots.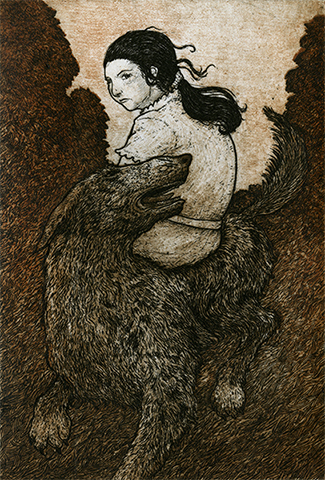 Brett Grunig, The Small Toothed Dog (And What Do you call me?), Etching, 3/15, 2014