Herold Mahoney Library Gallery
Exhibit Dates
November 26 - December 18, 2018
Artist Marie Kneemeyer set out to explore this idea. Marie saved six months' worth of trash used for five minutes or less. The resulting art pieces represent two of the three pieces Marie assembled showing how much material is created, used and trashed with minimal use or value. 258 million tons of trash is created in the United States annually, about 4.4 lbs of trash for each person, every single day.
How much five-minute trash will you create over the next six months?
Gallery Information
Mahoney Library Gallery
680 Sonoma Mountain Parkway
| | |
| --- | --- |
| Monday-Thursday: | 7:45AM-7PM |
| Friday: | 9AM-1PM |
| Saturday: | 10AM-2PM |
| Sunday: | Closed |
This exhibit is free to the public. A $4.00 parking permit is required in campus lots.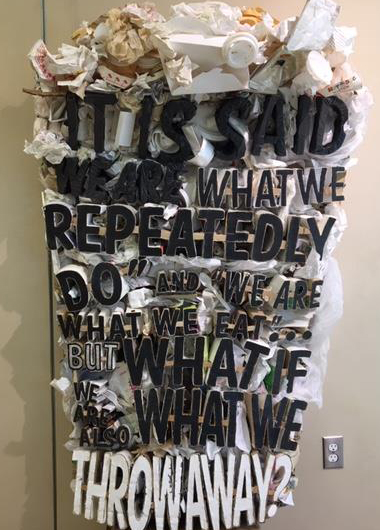 Marie Kneemeyer, "Five Minute Phenomenon," Materials: Trash and glue